Rotontek, a trailblazer in the realm of sustainable transportation solutions, presents its innovative, high-efficiency Electric Driving Wheel system. This revolutionary product merges superior engineering, refined craftsmanship, and sophisticated design, in line with our unwavering commitment to sustainable mobility. The crowning feature of this advanced product is its integration with the pioneering Electric Wheelchair Transmission System Solutions, setting new benchmarks for efficiency and reliability.
Product Specifications
Dimensions: The Electric Driving Wheel boasts a compact, streamlined design with a diameter of 320mm and a width of 135mm. This optimal size ensures that the wheel can easily be fitted to a wide range of electric wheelchairs.
Weight: Despite its robust performance, the product weighs in at a lightweight 8kg. This makes it easier for users to maneuver their wheelchairs without compromising on power.
Motor: The wheel contains an integrated brushless DC motor that delivers maximum torque of 50Nm, peak power of 350W, and a maximum speed of 12 km/h. This high-performing motor ensures top-tier efficiency, longevity, and noiseless operation.
Battery: The Electric Driving Wheel comes with an embedded 48V 10Ah Lithium-ion battery. With a single charge, the wheel can run up to 35 kilometers, ensuring users have sufficient power to traverse their daily paths without interruption.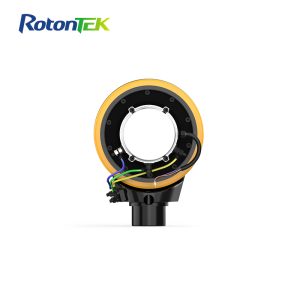 Design and Manufacturing
At Rotontek, we value precision, sustainability, and superior performance. Our high-efficiency Electric Driving Wheel embodies these principles in its construction and design.
Integrated Design: The wheel's integrated design includes an in-wheel motor and battery system, eliminating the need for additional external components. This design significantly reduces the product's overall weight and simplifies installation.
Robust Materials: The Electric Driving Wheel is manufactured with high-strength aluminium alloy, ensuring superior durability and resistance to wear and tear. Additionally, it incorporates high-quality rubber for the tire, providing excellent grip and traction on diverse surfaces.
Innovative Manufacturing: Rotontek employs innovative manufacturing techniques including precision CNC machining and robotic assembly to ensure the highest level of consistency and quality in every Electric Driving Wheel.
Notable Features
Rotontek's Electric Driving Wheel is packed with numerous innovative features:
Efficient Power Utilization: The product's high-efficiency motor and battery system ensure optimal power usage, translating into longer journeys on a single charge.
Smooth and Silent Operation: The wheel's brushless DC motor guarantees smooth, quiet operation, enhancing user comfort.
Regenerative Braking: This feature allows the system to recover and reuse energy during braking, further enhancing its efficiency and battery life.
Ease of Installation: The design enables quick and straightforward installation, allowing the user to replace their wheelchair's existing wheels without requiring technical assistance.
Integration with Electric Wheelchair Transmission System Solutions: This unique integration allows for optimal power distribution and motion control, ensuring a smooth, responsive ride in all conditions.
At Rotontek, our high-efficiency Electric Driving Wheel signifies a leap towards sustainable, efficient, and convenient mobility solutions. By incorporating the innovative Electric Wheelchair Transmission System Solutions, we provide an unmatched experience for users, making their journeys smoother, safer, and more reliable. The future of sustainable mobility is here, and it's powered by Rotontek.